CEDAR SUMMIT ESTATES 55+ DUPLEXES
822 S. Delfino Ln., Spokane WA 99224
Phone: (509) 838-1145 – Fax: (509) 838-7005
Email: summit4@cedarpm.net
Tuesday–Saturday 10am to 7pm
55+ Duplex – 1360 sq ft – (View floor plan and photos)
$1,490 ($550 Deposit — One-time Non-refundable Admin Fee $200)

55+ DUPLEX FEATURES & AMENITIES
MAINTENANCE FREE
We mow your lawn and maintain landscape.
We shovel your walk and driveway of snow.
We pay the property taxes.
We pay for insurance on the building (Renters insurance is recommended).
We pay for total maintenance of building: paint, roofing, concrete, lights, HVAC maintenance and all appliances.
We pay for water.
You pay for gas, electric, garbage and sewer.
Your unit is pre-wired for cable TV, Internet and telephone.
You pay for services if you connect to the Cable TV, Internet or telephone.
DUPLEX AMENITIES
We pay for on-site Security Alarm.
We pay for on-site Fire Alarm.
We pay for a monthly gift certificate towards a meal of your choice at Northern Quest Casino.
SPECIAL SERVICES
We pay for on-site Medical Alert Alarm.
Monitoring of Medical Alert Alarm is available. (You pay as you need.)
YOU HAVE ACCESS TO THE FOLLOWING FREE OF CHARGE
Exercise Room with Internet Access
Pool and all Barbecue Areas
Business Center with Internet Access located at the front office
SORRY, NO PETS!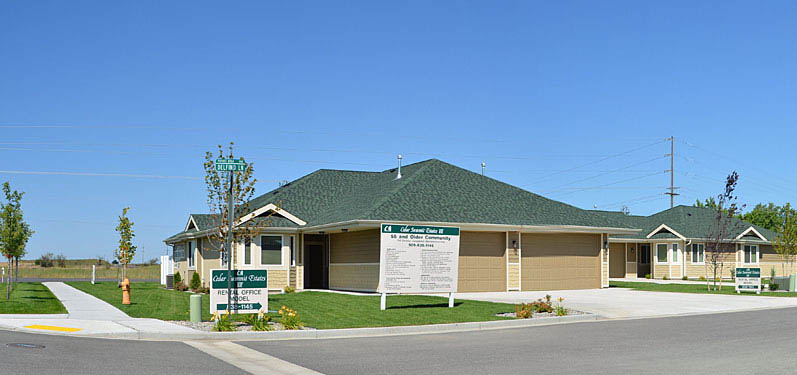 [envira-gallery id="3845″]
Map Cedar Summit 55+ Duplexes with Google — (Google Privacy Info)