CEDAR SUMMIT ESTATES III & IV
10620 W. 12th Ave., Spokane WA 99224
Phone: (509) 456-4660 – Fax: (509) 747-5481
Email Summit I & II: summit@cedarpm.net
Email Summit III & IV: summit4@cedarpm.net
Monday-Saturday 10am to 7pm – Sunday 10am to 5pm
APARTMENTS
* Every Apartment has an additional one-time $200.00 Non-Refundable Administrative Fee
CEDAR SUMMIT ESTATES III & IV
1 bed 1 bath (660 sq ft) $915 – $950 – $965 ($350 deposit) Washer/Dryer
2 bed 1 bath (902 sq ft) $1015 – $1050 – $1065 ($400 deposit) Washer/Dryer
2 bed 2 bath (1071 sq ft) $1165 – $1190 ($450 deposit) Full-size Washer/Dryer
2 bed 2 bath (1240 sq ft) $1275 – $1300 ($450 deposit) Side-by-side Washer/Dryer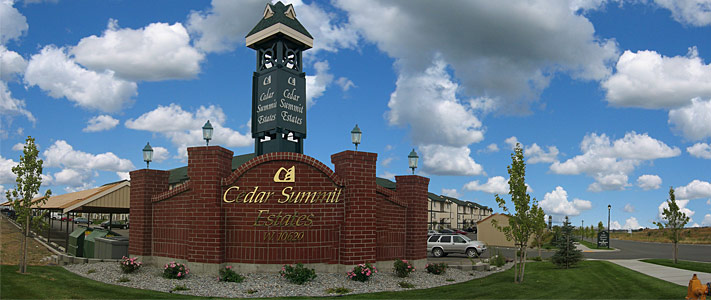 Apartment amenities include vaulted ceilings, kitchen skylights, walk-in closets, dishwashers, and air conditioning.
All units contain washers and dryers.
Community amenities include spacious inner courtyards, pool, BBQ areas, garages, carports and storage.
Fitness Center with nautilus, elliptical machines, treadmills & recumbent bikes.
Extra garages are available to rent for $40 per month.
SORRY, no pets!
Our Summit 55+ Duplex Community is completed and we are accepting applications. We invite you to drop by for a tour of our full service and completely maintenance free duplexes.
[envira-gallery id="3817″]
Map Cedar Summit Estates III & IV with Google — (Google Privacy Info)